by Jesse Bussard
A noxious and invasive weed, Whitetop or hoary cress (Lepidium draba L.), is becoming a big issue for Montana farmers and ranchers according to a recent article in the Missoulian. It is an aggressive growing plant capable of out competing desirable plants. Stivers, a Montana State University extension agent, states that a big part of the problem with whitetop is that it peaks just as those making a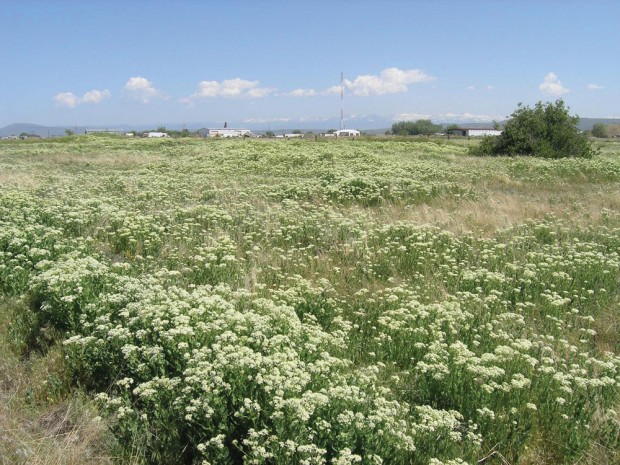 living in agriculture are swamped with other concerns like repairing fences and planting.
Whitetop has no natural predators and is not preferred by grazing animals. It was introduced to the United States from Eurasia decades ago. The Montana weed control association claims some whitetop weeds found within the moist Pacific Northwest can have root systems as deep as 30 feet. Plants produce approximately 3000 seeds annually and are also capable of reproducing via roots.
Control of whitetop takes an integrated approach. Of the most important management tactics, proper grazing management to avoid overgrazing is key as whitetop will overtake overgrazed pastures. Avoid traveling through whitetop to reduce spread of seeds. Seeds can also be spread via hay purchased for livestock, therefore purchasing weed-free hay is another good management tactic. Mowing is ineffective, as it just encourages growth from lateral roots. Some herbicide treatments are very effective to a point. Talk with your local county extension agent to learn about more ways you can prevent and control whitetop infestations.
Related links: