Alfalfa weevil (Hypera postica) can be a major problem insect in the first cutting of alfalfa.  This insect is one of the primary defoliators of alfalfa.  The alfalfa weevil was introduced into the United States from southern Europe and was first found in 1904 in Utah.  It can be found in all 48 mainland states today.  Alfalfa weevil along with it's other insect counterpart, the potato leafhopper, are responsible for hundereds of millions of dollars in losses annually for farmers.  It is estimated that a 10-15% reduction in yield alone (not considering forage quality) can be seen from alfalfa weevil damage.
Adult weevils lay eggs in the stems and stubble of alfalfa plants in the Fall.  The eggs overwinter and hatch in early spring.  Spring laid eggs hatch immediately.  The larvae stage lasts approximately 3 weeks followed by the spinning of a cocoon.  The larvae remains in the cocoon for about 10 days and upon emergence is a fully mature adult weevil.  During mid-summer adults become inactive.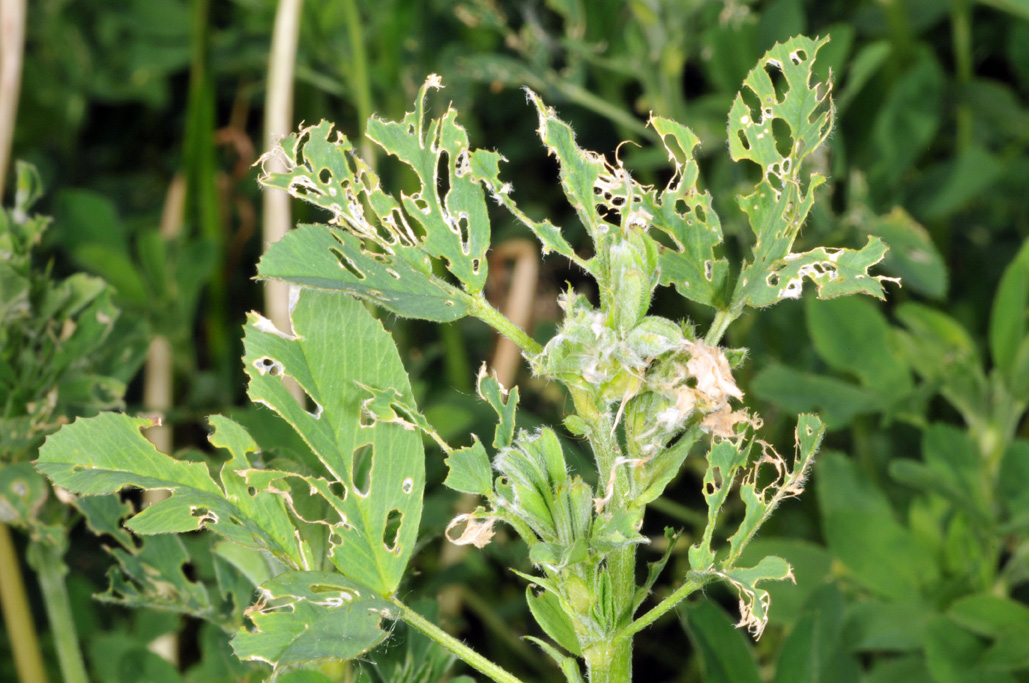 The larvae feed within the growing tips of the alfalfa plant, on the upper leaves as they emerge, and later on lower leaves.  Eventually plants become skeletonized from feeding and leaves die, giving the field a frosted appearance.  Larvae may also feed on new emerging shoots and can severely inhibit regrowth after cutting.  Adult weevils feed on the entire alfalfa plant.  Conditions that favor pest development are excessive pesticide use (which destroys biological control agents), mild winters, and warm dry spring weather.
Methods to control alfalfa weevil include management practices, biological agents, and pesticides.  Management practices that maximize alfalfa growth will minimize the effect of alfalfa weevils.  Several species of parasitic wasp and a fungus exist that will help control alfalfa weevil populations biologically.  If infestation levels are above the economic threshold, pesticides must be used, but always remember that insecticides kill beneficial insects too!
To sample for alfalfa weevil in your stand you can take the following steps:
Collect 30-50 stems randomly from throughout the field.
Shake larvae out of stems. Open young leaves to dislodge young larvae.
Count larvae.
Determine average length of stems.
Use charts below to determine if control is warranted.
For more in-depth descriptions of life cycle, crop injury, crop scouting techniques, and crop management please consult the following links: