I am amazed sometimes at the lack of knowledge some horse owners possess about what they are feeding their horses. An example of this was a recent story a friend of mine from El Paso, Texas, shared with me a few weeks back about the manager at her boarding stable. My friend purchases her own hay for her horses and had just gotten a good deal on some bermudagrass hay. The manager of this facility proceeded to inform her that the hay she had purchased was of poor quality and even thought that it may be straw.  At this particular stable, all horses are fed alfalfa hay. The manager had no idea what quality grass hay looked like or even was. They just assumed that all horses should eat alfalfa hay.
I'm not saying that alfalfa hay is bad for horses. I just fi nd it disturbing that someone managing a stable would not have even a small knowledge of the different types of forages available for horses. I've come across this many times in my many encounters with horse people over the years.
I feel that this issue merits a need on the part of the horse industry, equine educators, veterinarians, etc., to work with horse owners to better understand the basics of forages to better enable owners to make more sound decisions about their horse's nutritional needs. Through providing knowledge we will hopefully leave the horse industry a better place.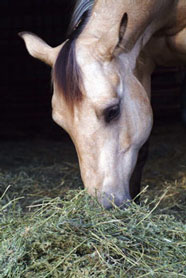 The different types of hay available are going to vary by the particular varieties grown in your area. Take for example, the southern United States where coastal bermudagrass, a warm-season grass is popular forage because it is well adapted to the warm, humid climate. Bermudagrass is rarely found in the northern U.S. because it does not grow well in cool climates. Where I live in Kentucky, the most popular hay choices are alfalfa, timothy, Orchardgrass, and alfalfa-grass mixes. If you're not familiar with different types of grasses or legumes I suggest consulting your local extension agent. There are also many useful websites available from land grant universities that offer useful forage identification resources.
When choosing hay for your horses there are several factors that need to be taken into account. Most importantly is that the hay is clean hay. If dust and mold are present, respiratory tract problems may develop. Digestive upsets are also a possible occurrence of presence of mold. Another thing that should be taken into account is the nutritive value of the hay you are getting. I think many times owners buy hay completely off the precedent of the color or smell of the hay (i.e. greener is better). Though color and smell do play a part in the final nutritive value, it is a small one. By doing a forage analysis you can save you a lot of time and money in the long run in your nutritional program.
Remember also that not all horses will have the same nutrient needs, so of course, they will not all need to eat the same kind of hay. For example, a racehorse may require nutrient dense forage like alfalfa because of a demanding exercise regime, while a backyard pony can maintain an ideal weight on mature grass hay. Hay will not always provide a nutritionally balanced diet, so it is important to understand your horse's nutrient and energy requirements and adjust the diet accordingly by changing the quality of forage or adding a concentrate supplement.  For help in formulating a nutritionally balanced feed program for your horse contact your veterinarian or equine nutritionist.
This article was originally featured as my monthly Horse Care column for Tack 'n Togs. You can access the pdf version here.