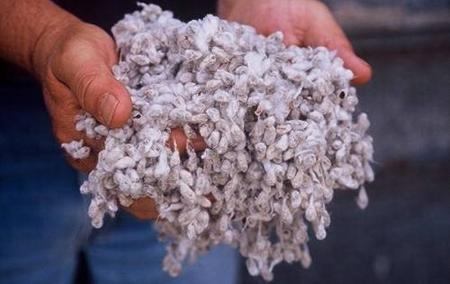 With forage becoming scarce in parts of the south central United States, what producers that have been able to keep their cattle are looking for ways to extend their dwindling hay supplies.  One option is by feeding a concentrate feed supplement, such as cottonseed.  Cotton is a plentiful crop in the southern US and provides an excellent source of fat, protein, and overall energy.  It comes in whole and hulled forms and just cottonseed hulls can also be purchased.  Because of this increased interest in cottonseed as a feed source I feel it is relevant that we touch on gossypol toxicity.
Gossypol is a toxic compound found in the cotton plant.  This compound is concentrated in the cottonseed but can also be found in other parts of the plant such as hulls, leaves and stems.  Gossypol exists in two forms: free and bound.  The free form is toxic, while the bound form binds to proteins is not toxic.
Amounts of free gossypol in cottonseed can vary.  Many factors affect gossypol concentration in seed including species of cotton plant, climatic conditions, soil conditions, fertilizer, etc.  With all these factors it is impossible to come up with one easy way to determine gossypol levels.  The only way is to test the cottonseed.
Whole cottonseed contains the most free gossypol.  Cottonseed meal which is extracted from whole seed will vary in amounts of free gossypol dependent on the extraction techniques used to extraction the cottonseed oil from the seed.  Because of recent changes moving away from the screw-press method of cottonseed oil extraction, the amount of free gossypol in the meal can be almost 10 times  higher than meal processed using the original method.
Gossypol affects mainly the heart and liver.  The reproductive tract, abomasum, and kidneys are also affected.  Monogastric animals, such as pigs and horses, are hightly susceptible to gossypol toxicity.  Ruminants, cattle and sheep, can tolerate higher levels of free gossypol because free gossypol bings to proteins in the rumen.  Even so, gossypol exposure can be toxic to cattle over a cumulative period.  Levels of 800 ppm are considered toxic.  The longer the cattle are on the ration the more likely toxicity will develop.
Common symptoms include:  weakness, depression, loss of appetite, difficult breathing, blood in the urine, inflammation of the intestines, and reproductive problems.  Gossypol toxicity must always be considered anytime their is a death loss in young animals that have been on cottonseed for several weeks (less time if gossypol levels are extreme).
No treatment exists to cure gossypol toxicity.  Removing cottonseed from the ration may have some reversal effect but is not guaranteed.  Some animals have still died even 2 weeks after gossypol was removed from their diet.
If cottonseed is on your potential list of feed sources to purchase, testing it for gossypol levels before feeding is highly recommended.  When purchased, it is possible that the level of free gossypol it contains is quite low, and may not pose a risk.  But without testing, there always exists a risk that the levels could be too high.  It's kind of like feeding sudan hay or grazing drought stressed corn/sorghum….except on a longer term basis.  Without testing the hay for nitrate, you are gambling with the health of your livestock.  Consult you animal nutrition consultant or feed specialist for more help in incorporating cottonseed into your ration.